Pennywise
Strike Anywhere, A Wilhelm Scream
03.05.10 / Dynamo - ZĂĽrich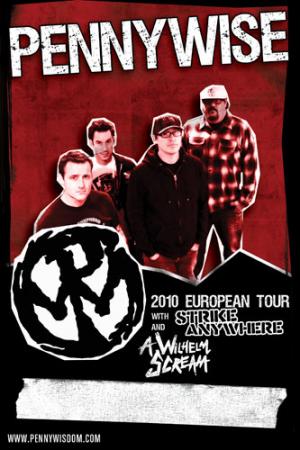 C'est malheureusement avec un peu de retard, que mes compagnons et moi arrivons au Dynamo, ce lundi 3 mai pour assister aux shows de A Wilhelm Scream, Strike Anywhere et Pennywise, ravis de voir que le concert est sold out et que la bonne ambiance sera de la partie. Et oui apparement, Pennywise, même après le départ de Jim Lindberg, son charismatique chanteur, n'a pas perdu de sa popularité.

J'arrive donc juste à temps pour voir la fin du show de A Wilhelm Scream. Juste à temps pour entendre The King is Dead, The Horse, The Rip, Famous Friends and Fashion Drunks et pour voir que, ce soir là , ils avaient la forme (comme d'hab), et leur fameux sourire permanent aux lèvres. Le public est d'ailleurs hyper réceptif, plus qu'en 2008 où A Wilhelm Scream avait également fait la première partie de Pennywise.

Ensuite, arrivent sur scène Thomas Barnett et ses acolytes. Dans le désordre, on a eut droit à Hand of Glory, I'm your Opposite Number, Allies, Sedition, Prisoner Echoes, Laughter in a Police State, Hollywood Cemetery, Iron Trees, Instict Inframed, To The World, etc. L'ambiance dans la salle s'élève au niveau au dessus, grâce à Strike Anywhere, qui balance ce titres énergiquement comme toujours. Personnellement les concerts de Strike Anywhere ne me "transporte" pas (enfin si une fois) mais c'est toujours sympa d'entendre leurs titres et de pouvoir lever le point avec l'audience.

C'est enfin au clou de la soirée d'arriver sur scène. Zoli, Fletcher, Randy et Byron ont l'air bien motivés et prêt à mettre le feu à la salle en ce lundi soir. C'est avec Single Day qu'ils commenceront leur show, ça se déchaîne déjà dans le public, malgré la chaleur ambiante. Ils enchaînent ensuite avec In My Own Country et Can't Believe It. Entre deux chansons, le nouveau chanteur de Pennywise, remercie le public d'être présents et nous invite à aller jeter un coup d' oeil au stand Sea Sheperd, étant lui-même très impliqué dans la cause. On peut d'ailleurs ouvrir une petite parenthèse sur Zoli Teglas. Personnellement je suis totalement convaincue du bon choix qu'ils ont fait en l'assignant au poste de chanteur. Il s'est complétement approprié les titres et les maîtrise à un tel point qu'on pourrait parfois oublié qu'il ne s'agit pas de Jim Lindberg, tout en y ajoutant sa touche personnelle. Plus le concert avance, plus le public ne se contient plus, What if I, Peaceful Day, Same Old Story, Leaving For Today, bref que des tubes s'enchaînent. Ils annoncent ensuite la venue de Fuck Authority qui sera l'apogée du concert. Straight Ehead, Searching, Something to Live For et ensuite nous aurons le plaisir de pouvoir entendre Stand By Me. Ils termineront le show avec l'habituelle Bro Hymn.

Que dire de plus? Ce fut un bon punk-rock show, bonne ambiance, bon son, bons groupes.
Live Report : Sandra
Ajouté le : 17.05.10
Live Report cliqué : 5192 fois
Chroniques similaires :
Interviews similaires :
Live Reports des mĂŞmes artistes :
Xtreme Fest
NoFX, Converge, Bane, A Wilhelm Scream, Sick Of It All, Lagwagon, Raised Fist,...
Date : 01.08.14
Lieu : Parc Expo - Albi

A Wilhelm Scream
Rentokill, Shadows of Defeat / Rentokill, No Good Men
Date : 02.12.09
Lieu : Werk 21 de ZĂĽrich - 03.12.09 / Warmaudio de Lyon