Gideon
Lire cette interview en FRANÇAIS

A fews days before their first European tour, Timmy Naugher, bass player for Gideon, took some time to answer some questions.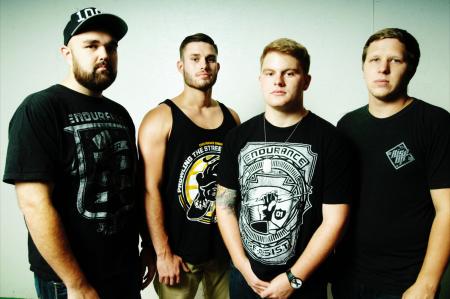 Hello ! Can you tell me more about the band? When did it start, who does what and where did the name Gideon come from?

Well we started about 4 years ago. There was a band called Awaken the watchmen that our friends Scooter and Kris were in. They had all of the rest of their members quit, so they hut up Daniel McCartney and Jake to play with them. They then changed the name of the band to Gideon. They also needed a bass player and Scooter hit me (Timmy) up. We started practicing and writing, then eventually started playing shows. We were a straight Metal band with lots of shred. We got to where we were playing shows every weekend since Daniel and Jake were in high school. Kris has a wife and a full time job, so it got to be too busy on his schedule and he decided to leave. He was the main guy who was writing music, so Daniel stepped up and Started writing music. One of the first songs he wrote was "Gutcheck" off our first album Costs. So after Jake and Daniel graduated, we started touring full time. We did a tour with As Hell Retreats and The Advocate. On that tour Jason from Facedown records came out to one of our shows and decided he wanted to pick us up. Right before we were going into the studio, Scooter, our vocalist at the time, left the band. We knew Daniel McWhorter from the band the Advocate, who we had just toured with and who had just decided to call it quits. We literally call him in the studio and he drives up and records our album. We've been rocking every since. Also the name Gideon is a character from the Bible. He was a warrior.

How do you describe your music?

This is a tough question. I feel like we have so many elements to our band that we want to try to incorporate into our music. We want to be heavy but catchy with melodic parts too. We have hardcore parts. We have breakdowns. We have nu metal parts. We have singing. We have it all. Haha.

You're a four pieces band, with only one guitarist. How do you manage to still get this huge metalcore guitar sound on stage? And don't you think that it may limit your possibilities of musical creation?

Well we've actually almost always been a 5 piece band. Our friend Blake Hardman was our 2nd guitarist up until summer of last year. He left the band to go play with Hundredth and just helped write most of their new record. Right now our friend Tyler Riley (As Hell Retreats) is filling in for us and will be with us in Europe. Our guitarist Daniel and our Drummer Jake are so solid at writing music. They've written about 95% of all Gideon's music. They have been brst friends since like elementary school, so they know each other so well, and just play to each others strengths when writing. But it does always help when you get an outsider giving a new perspective on things.

According to your Facebook profile, you're naming more Hardcore bands like Cruel Hand, Comeback Kid or Have Heart as as influences than Metalcore ones. How important is Hardcore for you?

Hardcore is very important to us. Alabama had a great hardcore scene. It was especially thriving and growing when we were in high school. We werr going to shows at the DIY spot called Cave 9. Literally anyone of relevance in hardcore has played there. Going to those shows was great. The music brought everyone together. Everyone was family. We knew that was something that we wanted to be a part of. And even though our music isn't straight hardcore, we still carry that family element with us.

What are your expectations for this first tour in Europe? And what is the image in general you have about Europe?

I don't know if we really have any expectations for our tour in Europe. I mean we would like it to do well and be successful and meet a ton of new people that will be coming to our shows. That would be totally cool with us. I feel like the only image that we've developed about Europe is with the fans. Everyone that we've played with, that has been to Europe, talks about how amazing the fans are. People say they go crazy during your set. Then are very welcoming and accepting and greatful that you are there. So we are really pumped to go and hang out with some new people.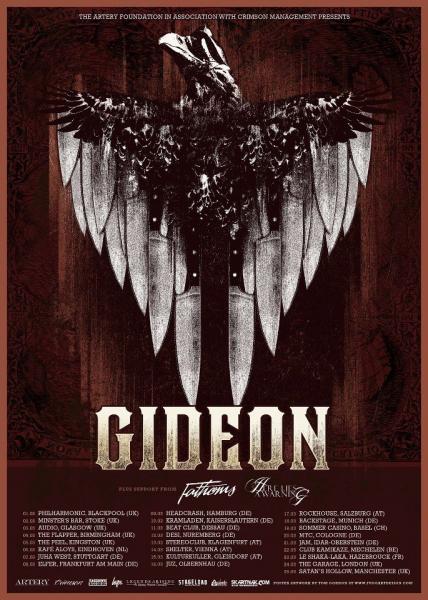 You recently went to Japan. How was it there?

Japan was awesome. I think all of us can say that it was the best trip of all of our lives. It was just incredible. The shows were great. Kids were amazing. Just treated you with so much respect. Respect is big there and for them to just treat us like their own was so surreal. The culture there is incredible. Our guide was the coolest dude. The band we toured with there (Shark Ethic) were rad. The food was unbelievable. I just can't say anything bad about that trip. Literally the only bad thing was leaving. We are already trying to figure out how we are going to get back.

What do you miss the most when you're on tour?

Probably our dogs. I have a bulldog named Hollywood and a German Shepherd named Kyzer. Daniel McCartney has a Boxer named Daisy. Jakes family has a Shih Tzu named LuLu and a Boston Terrier. Most of our dogs are like family members. If you follow any of us on instagram, you will see that 90% of our pics are of our dogs. We love staying with people on tour who have dogs.

What are your individual occupations aside from the band, and what would you be doing now if you weren't in a band?

We all do different things. I (Timmy) do construction when I'm home. I have a Technical degree for Air Conditioning and my dad owns a construction company, so he is flexible with my schedule. Sometimes if some of the other bands dudes are hurting for Cash, my dad will hire them on for a bit. It's cool because i usually get to boss them around. Daniel McCartney is a booking agent. He works for State of Mind booking, does in house for Mediaskare, and books some of the bands on Facedown records. He does Landscaping sometimes too. Jake's most consistent place of work right now is at Chick-Fil-A. They have been really flexible with working around our tour schedule. Dan, our vocalist, was also working at a restaurant, but i think he might have just gotten another job.

Which Alabama bands can you recommend? Is there a big music (punk, hardcore or metal) scene?

Definitely the band Erra. They are a like a melodic Tech metal band. Think like new Misery Signals, except more technical, more melodic, and catchy singing parts. Everyone of the dudes is super talented as well. They are recording there second full length right now with Brian Hood at 456Recordings. He is the same guy who did all of our albums. The Alabama music scene is great. There was a time a few years ago where it was pretty dead because we didn't have a venue. But we've had a consistent DIY venue open since then and the scene has grown and is still growing. We've also had a resurgence of "Bigger" hardcore and metal acts coming through. I'm very proud to be part of Alabama hardcore.

Thanks for taking this time and have fun in Europe !
Interview : Pete
Plus d'infos :
Label : Facedown records
MySpace : facebook.com/gideonal
Site Web : GideonAL.Tumblr.com
Site du label: facedownrecords.com
Interview cliquée : 12340 fois
Interviews aléatoires :