Polar Bear Club
Lire cette interview en FRANÇAIS

POLAR BEAR CLUB is one of these many melodic bands that were freshly signed on Boston based hardcore record label Bridge Nine Records. After having missed them on their latest European tour with the great SHOOK ONES and TITLE FIGHT, I definitely needed some sort of consolation prize. So that's with great pleasure that I did this interview with the singer of the band, Jimmy Stadt.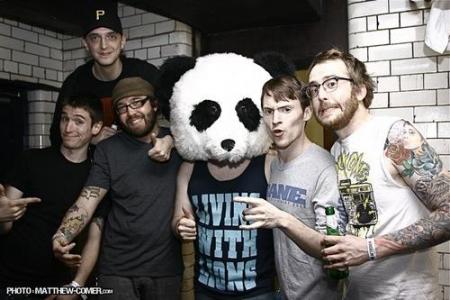 Hey ! Can you first introduce yourself ? What's your name ? What do you do in the band ? What do you think is important to know about you ?
My name is Jimmy and I sing in POLAR BEAR CLUB. It's important to know that I don't have a beard. Everyone thinks I do when they listen to POLAR BEAR CLUB.

Where do you come from ? Did you all grow up in the same town and were you friends before being bandmates ?
I'm from Rochester, New York. We all grew up in pretty much the same area but weren't really all friends before the band. We knew each other but we were more just part of the same scene.

What was your personal introduction to hardcore punk and what attracted you the most to this universe ?
Well the first punk album I really owned was PENNYWISE's « Unknown Road ». I went to my first local hardcore show some years after that and what really drew me to it was the passion and honesty. I always felt a little bit like an inside outsider I guess and up until then, I always knew I hadn't really found my « thing » just yet. I'll never forget the sort of awkwardness of that first show, seeing like 20 people all freaking out to these bands I didn't know. It was powerful stuff.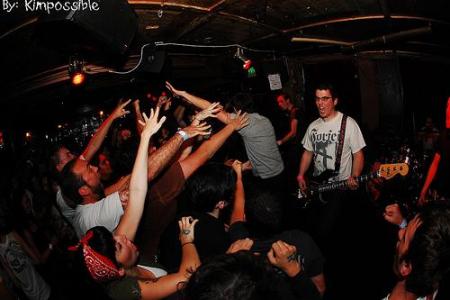 The esthetic tones of POLAR BEAR CLUB's artworks of each record are pretty colorful I'd say. Is it an aspect that was premeditated, that you thought a lot about or do you usually give total freedom to the artist in charge of the actual artwork ?
We never really thought about it until Richard Minino sent us the cover he did for our first full-length, « Sometimes Things Just Disappear ». We all saw that and just loved it and it really set the tone and the bar for all of our artwork to come. We do have high expectations for that sort of thing so I hope that kids get that.

What do you do beside playing music ? Are you interested in other art forms ?
Yeah I definitely am interested in other arts. I love comics and books but if you asked anyone who knew me they'd describe me as a movie person. Movies are my first love no doubt. I like theatre a lot too but there's a lot of bullshit there to sift through to get to the good stuff unfortunately.

So the name of your band is actually SILENT MAJORITY's song title. What does this band represent to you ? And by choosing this specific name, did you try to draw attention on the lyrics of the song or was it simply an attempt to pay tribute to a band you like ?
It was a little bit of both. The song is awesome but the band is more meaningful to me as a whole. They did this really fresh, raw and honest form of melodic hardcore and it really resonated with us and still does. It was mature and fun which is something that may be lost on modern music.

I've noticed that you have toured with very diverse bands musicwise. Is that deliberate from your side or is it just the way it is in the hardcore scene today ? What's good and bad about touring with bands that sound nothing like yours ?
It's very deliberate. We would much rather do a diverse tour and discover things about a band or a type of music that we didn't already know. It's good because it gets people's attention but it can also be bad because some people are confused by it and have trouble seeing three or four diverse bands in a night, they just want to stay in their comfort zones for the time and don't appreciate being challenged by a « different » tour package.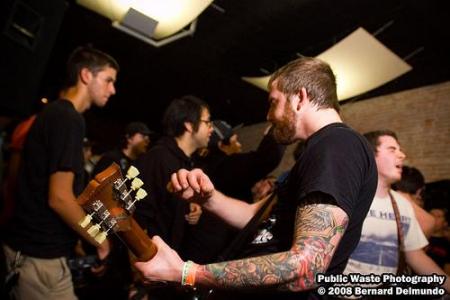 On the record « Sometimes Things Just Disappear », there's a song called « Our Ballads », whose lyrics are really thought-provoking to me, as they seem to be based on something that is very personal and that I guess everyone can relate to, in some ways. I don't have a sister and I feel that my brother and I have never felt any kind of pressure in our lives to listen to some more acceptable music than hardcore or punk, probably thanks to our gender and our parents' affinities to music in general. That said, since the day I read the lyrics of this specific song, I've been wondering what might occur to girls of my age/generation around me, if some have to encounter similar problems like the girls you talk about in these lyrics. So my questions are : from your male viewpoint, what do you think is the main barrier a girl can face up while entering a youth subculture, in particular hardcore punk ? And what can one do against that ?
I don't know. Honestly, I didn't write the song to answer the question because I don't have one. I wrote it just to bring it up and promote discussion and thought on the issue. I don't think I've written a song like that since that one but it is still a really interesting subject. The song is mainly about a conversation where someone suggests the aggressive aspect of POLAR BEAR CLUB will turn off a potential female fan base. And it was really confusing and scary for me. Confusing because I'm not really that angry. I would more consider myself passionate than aggressive. And confusing because don't girls get angry too? And also passionate? It was scary in the sense that maybe this person was right. So I knew for myself I needed to explore it in a song and that's about all I know.

When you last came to Switzerland, you eventually had to cancel the show at the last minute. What happened ? Do you often have to experience such misfortunes on tour ? And if you do, what do you do to hold on and keep going ? Any tips ?
We had to cancel because our driver got food poisoning and we had about a ten hour drive to do and he spent the whole night and morning throwing up. About thirty times total. That sort of thing does happen every now and then and it really sucks. We just had to cancel our first Russian show due to visa complications and it was really last minute and it really tore us up. There's no way to make it any better, just hope you can make up the show down the line sometime and it will be a good one.

When you're on a tour, you inevitably run into places and people that are totally unfamiliar to you. What usually rouses your curiosity the most in this kind of situation where you don't have any landmarks and why ?
I'm used to being unfamiliar with everything. That in itself is exciting. Being a foreigner in a foreign land can be fun but also get depressing after a while. You just have to keep reminding yourself how lucky you are to be there.

f there is one thing that you wouldn't mind being rid of off the hardcore scene, what would it be and why ? I
Message boards.




Could you give me your Top 5 records of all time and leave a short comment for each of your selections ?
This is really hard but I'll try.

THE REPLACEMENTS -Let It Be. This is the first band that I heard that showed me the power of humor in music. I don't mean comedy really but just a sense of humor. That can be so powerful and make the sad stuff that much sadder in contrast. This band really opened the door for me to bands like THE HOLD STEADY, AMERICAN STEEL, ELVIS COSTELLO. That's where I am now and it's really interesting and I don't think a lot of bands are incorporating that sense of humor and wit into their music these days.

JIMMY EAT WORLD - Futures. This band as always made records I love and I singled out « Futures » but « Clarity and Bleed » could be on here also. They have always represented for me the ideal band. Nothing outshines anything else, every component fits together perfectly and remarkably. This album is one of the best sounding recordings I've ever heard and POLAR BEAR CLUB constantly references it sonically when recording.

PENNYWISE -Unknown Road. This is what started me playing guitar and wanting to be in bands. The first track, the title track is just so incredible when the guitar comes in out of the piano. I had never heard anything like that before and it really grabbed me.

CARRY ON - A Life Less Plagued. This sort of represents my salad days of hardcore. AMERICAN NIGHTMARE, THE SUICIDE FILE, CONVERGE and BANE as well. A lot of good memories associated with this record.

REFUSED - The Shape of Punk to Come. Who doesn't put this album on these lists? But it's true for so many reasons. Who knew hardcore could be art? This album also sounds incredible.

This interview is over. Thank you for your time, I appreciate !
Interview : Bastien
Plus d'infos :
Label : Bridge Nine Records
MySpace : www.myspace.com/polarbearclub
Site Web : www.polarblogclub.com/
Site du label: www.bridge9.com
Interview cliquée : 18797 fois
Chroniques du même artiste :
Interviews aléatoires :