Weekend Nachos
Lire cette interview en FRANÇAIS

WEEKEND NACHOS is a stunning band from Chicago that is audacious enough to mix two relatively different genres, which are powerviolence, a subgenre that shares similarities with crustcore and grindcore, and a kind of hardcore that is much heavier, something that is close to moshcore and beatdown. The band stopped by Switzerland last October and this gave me the opportunity to ask John, the singer, if he was into doing an interview, and he said sure. Check out what this guy has to say about his band and about other topics as well.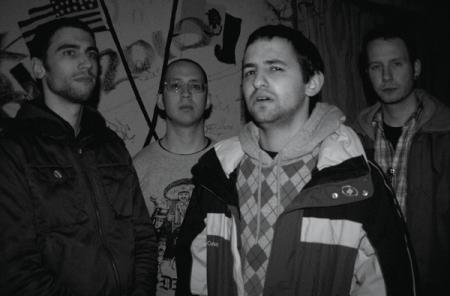 So for those who are not too familiar with WEEKEND NACHOS, you're the singer of the band. Do you also write all the lyrics or is that a task you share with the other members? And how important are these lyrics to you? More or less important than the music? I came to know the lyrical content was essential in hardcore, but I don't know, I have this feeling that times have changed somehow and that now a lot of people are unfortunately devoid of interest or awareness when it comes down to knowing what a band stands for or tries to convey through lyrics.
Yep, I write all of the lyrics for WEEKEND NACHOS. The other members occasionally help with writing the music, but all of the lyrics are 100% mine. I would say these lyrics are pretty important to me because I always say what I mean and mean what I say. It's all complete honesty, it's basically my brain put to music. I think even when a WEEKEND NACHOS song is about a specific subject, it's still very personal because I really put myself into each song. As far as which is more important, the music or the lyrics...I think that depends entirely on the band. There are some bands, SLAYER for example, where I don't care what they're singing about, I'm just listening to it for the riffs and the mosh. But a band like HIS HERO IS GONE, for example, I listen to for the lyrics as well. There are many different ways to relate to a band, and sometimes lyrics are very important.

What struck me when I first heard WEEKEND NACHOS was that surprising combination of extreme anger and a good sense of humour, hence the bandname. Knowing this, aren't you afraid of having to face huge misinterpretations, like having people think you don't really mean what you sing or on the contrary drawing people who take your band too seriously and forget the fun part of a show or just being in a band? I know a friend of mine missed your show in Lausanne because he assumed he wasn't going to be too much into it by seeing the name of your band, he probably thought you were a ska band or something...now he wishes he had checked out the songs before the show I think! Shit happens!
Haha, I know, this is something that happens all the time. We like it that way. Your friend should not judge a book by its cover!!! I think it's important to show your fun side, as well as your mean side. This is like I was saying earlier...WEEKEND NACHOS is just 100% honest. We'll never try to be silly, we'll never try to be brutal, we will just give you what we are, and that's it. I am never afraid that someone might misinterpret what I'm singing about because all they have to do is read the lyrics. I'm not trying to confuse anybody, I'm just trying to be myself.

So you did a pretty long European tour last fall with a German band called CANCER CLAN. How was the tour? What were its highlights? Did you get on well with the CANCER CLAN guys? If I remember well, their guitar player filled in on bass for WEEKEND NACHOS, that gives a sign on how things went for the most part...but isn't it a little nerve-racking to be piled on the same group of people for such a long time? Is this proximity something you've frequently experienced in other contexts?
The CANCER CLAN guys and gal are incredible...seriously some of the greatest friends that I've ever experienced in my life. We got along with them wonderfully and there was never a sour moment. I think when you're on the road with anybody for a long time, there's always a chance that you might get into an argument or start to dislike them a little bit, but that's why we never go on the road for more than a few weeks!!! Haha! CANCER CLAN are some of the kindest and most gentle people that I've ever met and I can not wait to go back to Europe and spend more time with them. Loffi, Chris and Nicole are like family to us.

From what I can remember of the show in Lausanne, you made that brand new mosh move that looked like a giant step made slowly. Seriously, what's that? Some sort of secret code you established with the accompanying band? I'm sure you started a new worldwide trend!
The mosh move you are referring to is called "The Jack Skellington", also known as "steppin' out". This is something that I came up with along with a few friends of mine (not members of WEEKEND NACHOS) back in 2003. It is mainly based on the character Jack Skellington from the movie "The Nightmare Before Christmas", and the way that he walks with his long-ass legs. Spread the word...I will gladly teach any European guy or girl how to step out!!! It's so much fun.


Next one is a very classic question and it usually appears earlier in interviews...but fuck that...when and how did you get into hardcore? What was the first significant event for you, if there ever was one?
Well, truthfully I've been involved in the hardcore scene for about 15 years now. I first started listening to punk rock in 1997 and I found the hardcore scene almost immediately after that. I basically was exposed to a lot of grindcore and powerviolence at the same time as hearing bands like RANCID, PENNYWISE and NOFX. So I was listening to the happy punk stuff at the same time as the brutal, fast metal-influenced stuff. Then, as I went to more and more shows, I started listening to old school hardcore like MINOR THREAT and YOUTH OF TODAY and that's how I got into hardcore. It was all kinda happening for me at the same time. The first real hardcore show I can remember was seeing a band called KUNGFU RICK in a basement somewhere in the suburbs of Chicago. They actually beat my ass, it was cool.

If I'm not wrong, you're from Chicago, right? How's the current scene there? I know you used to be in HARM'S WAY, another super heavy Chicago band that I really like, and both bands recorded their albums at the same place, namely Bricktop Studio. So is there a true family spirit within the scene that is maybe related to some Midwestern characteristics or favored by the geographic situation? To be honest, when I think of US hardcore, I first think of the coasts and thus forget about the rest of the country.
Yep, Chicago is a very important place with all music scenes, but since we're mainly discussing hardcore, I'll elaborate on that. Andy, the guitarist of WEEKEND NACHOS, runs Bricktop Studio with his friend Pete, and they basically record a ton of bands around here, mostly all of the heavy ones, at least. They really have it going on, they're extremely talented engineers/producers. It's very much like a family in this scene, a lot of bands share the same members and a local show can usually bring out a ton of kids. The scene has its highs and lows, but right now things seem to have been getting better here. As for thinking of the coasts first when it comes to US hardcore...DON'T!!! The Midwest has been home to some of the most influential bands that hardcore has ever seen. In the 80's we had NAKED RAYGUN, ARTICLES OF FAITH, ZERO BOYS, NEGATIVE APPROACH, and DIE KREUZEN. In the 90's, we had CHARLES BRONSON, KUNGFU RICK, and probably one of the most important hardcore bands to ever walk the Earth, LOS CRUDOS. In the 2000's, well, there were tons of incredible bands. PUNCH IN THE FACE and THE REPOS are the two most notable ones that come to my mind, the others that I grew up listening to you may not have heard of, actually.

Inviting guest singers on records seems to be a WEEKEND NACHOS tradition. Who are the people you invite and why is it that important to have many guests on each release?
We actually didn't start doing this until "Unforgivable" was recorded, but really, it's just a great way to enhance the songs by adding some diversity to them. I love utilizing my friend's talents and making our songs cooler by adding their vocals to them. On "Unforgivable" we had our friend Dan Polak who sang in a great Chicago band called LEFT HAND PATH. Michelle Northam from SICK FIX, a great band from Baltimore, MD, also did a guest spot. On "Worthless", Patrick Stump from FALLOUT BOY did the guest spot on "Jock Powerviolence". We just like to invite other voices to participate on our albums because it's fun, interesting and enjoyable. And since we only work with our friends, they are always honored to be a part of it.

Beside singing in the band, what do you do and like doing in your life?
Honestly, I am a pretty boring guy. I only really care about three things outside of hardcore: food, movies and my girlfriend, Rory. And when it comes to food and movies, I enjoy both of those things with my girlfriend 99.9% so really, she's my whole life, haha. That's kinda sad, isn't it?

I remember you claimed to be a smiley person and according to the impression you gave me, I couldn't agree more! Where do you get these positive vibes? It's funny but in so many cases, it seems like the chillest dudes are in the angriest bands, as if it kinda acted as a counterbalance! It reinforces my belief that THIS particular outlet helps you evacuate a lot of stress, anxiety and fear relating to modern life. I like listening to some mellow music as well, but it certainly doesn't have the same impact. What do you think?
I like to treat people the way I would like to be treated. I am not interested in money, I am not interested in fame, I am not interested in possessions, there are only two things I strive for in this world and they are kindness and respect. And in order to achieve kindness and respect, you need to GIVE kindness and respect. I use this outlook as a means to stay positive in this world. I want people to feel good around me, and I want to feel good around them. As angry and hateful as WEEKEND NACHOS appears to be, it is really an experience based on feeling good more than anything. Releasing negative energy in a room full of people who can relate to it really is a powerful feeling that I feel only hardcore can provide. There will always be bad times and negativity in this world but if you can express those negative feelings through music, well, you're fucking set. Peace on earth, war on stage!!!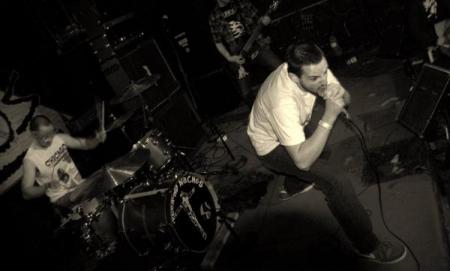 So you released a new record called "Worthless", and it's out on Deep Six Records. Are you satisfied with how it turned out? In your opinion, how different is it from the previous records you put out? I think it's a great record, the only downside to it was that I really had a hard time getting into the long and repetitive parts, like on the title track and the actual outro of the album. Can you also comment on that?
I'm pretty pleased with how "Worthless" came out...and I think it's some of our best material. We really made a raging album and I think the lyrics are great, too. As proud as I am of it, I think I agree with you about those long, repetitive parts. On the one hand, I think they're cool cuz we love the drone style and we really like heavy riffs that go on for a while. But on the other hand, we may have overdone it just a little bit. I don't know, I'm not too concerned with it because I think it depends on what mood I'm in.

You've got a very strong stance against homophobia, which you made clear in the song "Dubviolence", on the "Worthless" record. I completely support this, as our Western societies are still clearly filled with senseless prejudices against minorities, including the gay and lesbian communities. But was there a special event that pushed you to write the song? Like a triggering factor?
You know, I don't remember the specific article I read but it was all about Jamaica's response to homosexuality and how the Rastafarian culture is very intolerant of that lifestyle, especially IN the country of Jamaica itself. There is a lot of violence towards gays and lesbians in their society and it is tolerated more there, and I think that's very pathetic and sad. Now, there are a lot of Christians and Catholics and other religious folks in America who also believe the same thing, but overall the American response to homosexuality is a lot less violent, but the hate is still there. I think as a worldwide society, this is just embarrassing. I don't think anybody deserves to be treated that way, especially not based on a sexual preference or inborn lifestyle. I wrote that song about how insane I think it is to be intolerant of another human being's feelings just because your "culture" or your "religion" says so. Get over it and learn a thing or two about respect. I would like to believe that human beings are better than that but millions of people want to prove me wrong, and that's just too bad.

Another song off the latest record intrigues me: "Jock Powerviolence". As I understood, it's not easy for you, as a band, to get accepted by the power violence purists. And so you've been called "jocks", right? It's pretty obvious that the mix of heavy breakdowns and super fast parts can't appeal to everyone, as it's not a popular formula I guess. What kind of reproaches do you get and how do you usually response? That makes me think of another meaningless argument which depicts moshing as a macho kind of dance. That doesn't hold water since girls enjoy moshing as much as boys, if not more...
Yeah, WEEKEND NACHOS has a variety of influences and we don't stick to just one subgenre, we just write songs that we like. Some people call it "jock powerviolence" cuz we add in the MADBALL/HATEBREED influence, but hey, we love those bands just as much as we love CROSSED OUT or NAPALM DEATH. If somebody wants to sound like a combination of HIS HERO IS GONE and COLD AS LIFE, I think that's fucking cool. I wish I saw more bands doing things like that. I don't think WEEKEND NACHOS should be outcasted because of it, but we are and I suppose that's fine. We'll probably influence more people to do the same thing over time, I'm sure we already have.

Can you give me your top 5 records of all time? It's also a question I ask in each interview, and well I know it's a tough one, but please try, it's always good fun!
Hmm, well that's hard to say, but I will name five records that come to my mind immediately: BASTARD - "Wind of Pain"
RANCID - "And Out Come The Wolves"
SLAPSTICK - "Discography"
THE BROADWAYS - "Broken Star"
OPERATION IVY - "Energy"
Those are five albums I love, but honestly, I don't even think that's my Top 5. It's just too hard of a list to make!!!

Thanx for your time! Anything to add?
Thanks for hearing what I have to say...greetings from Chicago! Looking forward to coming back to Europe this summer!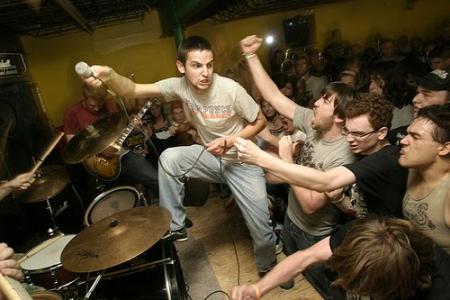 Interview : Bastien
Plus d'infos :
Label : Deep Six Records et Relapse Records
MySpace : www.myspace.com/weekendnachos
Site Web : Pas de site
Site du label: www.deepsixrecords.com et www.relapse.com
Interview cliquée : 18060 fois
Chroniques du même artiste :
Interviews aléatoires :